---
Sean Pollock's Pictures
---
Sean Pollock who suffered the whole two years of grief in the Orderly Room 1957-1959 recalls 425SU and has very kindly sent in these seven photographs.

1) A view of the camp from the air, 2) The Astra cinema, 3) Station Headquarters, 4) The Viking which landed wheels-up, 5) With his pals in the NAAFI,
6) His section photo, 7) On desert patrol.

Sean reminds us that the Commanding Officer during that time was Group Captain Law. His obituary is appended below.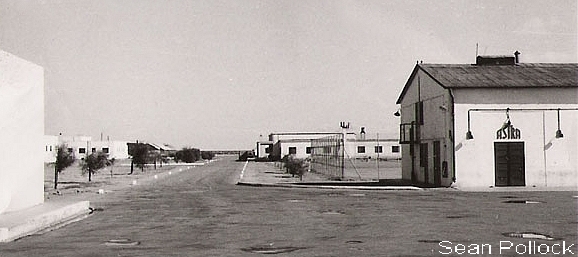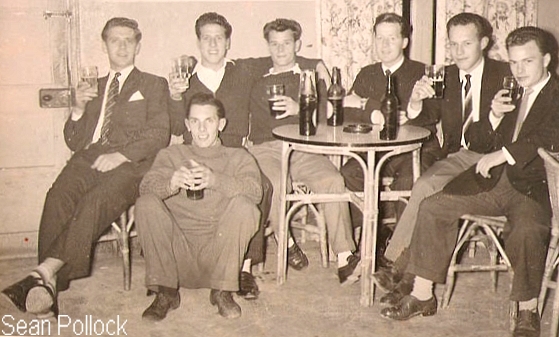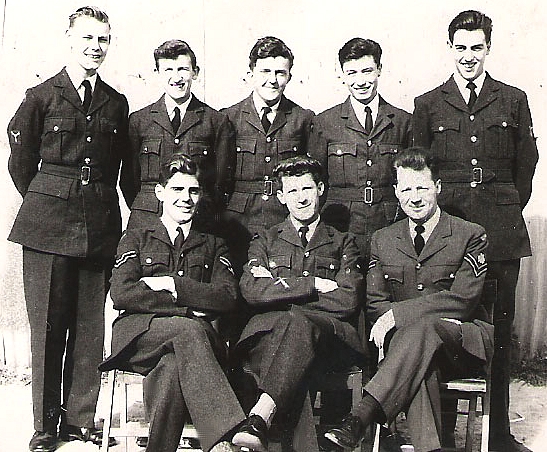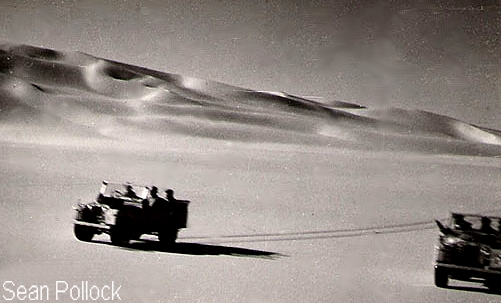 ---
Obituary for Group Captain Law, former Commanding Officer of El Adem as printed in The Times
Robert Law was a Mosquito pilot in 109 Squadron involved in operating the Oboe blind bombing system used by Bomber Command's Pathfinder Force to achieve new standards of target marking and bombing from early 1943 onwards. Oboe, invented and developed at the Telecommunications Research Establishment, required pilots to fly absolutely steadily, and for several minutes often under enemy fire, along a radio beam transmitted by a ground station (the "mouse") that emitted a pure note reminiscent of an oboe. On reaching their target, they would receive a further signal from another ground station (the "cat") on which they would drop their flares enabling the following "main force" bombers to hit their targets with an accuracy not obtainable with Oboe's predecessor systems.
Oboe and H2S, a radar apparatus completely self-contained within the aircraft, transformed Bomber Command's bombing accuracy during the second half of the war.
Law flew 93 sorties for 109 Squadron between July 1943 and May 1945. Of these 82 were flown with C.W. (Bill) J. Falkinder, his Australian navigator. Among their targets during 1943 were munitions dumps and gun batteries around the Pas de Calais, the Krupp works at Essen and chemical works at Leverkusen, north of Cologne.
In 1944 targets included the V1 sites in the Pas de Calais and oil depots at Gelsenkirchen, and on March 1 Law piloted one of two Oboe Mosquitoes that led a formation of Lancasters to attack a V1 site in the Pas de Calais in daylight from 20,000 ft, the first time Oboe had been used in daytime. From mid-March until D-Day most raids were directed on to the main railway yards of Northern France.
On June 6 Law learnt that his mission, late the previous evening when he was the first to take off at 22.10 and mark the massive gun battery at Crisbecq in Normandy with flares, had opened the air offensive for D-Day.
In late 1944 and early 1945, by which time he was comanding the squadron, raids were directed at targets mainly in Germany, including one on April 25, 1945, on Hitler's "Eagle's Nest" and the SS Barracks at Berchtesgaden. Law's final sortie was on May 4 as part of Operation Manna, which was launched to relieve a desperate food shortage in The Netherlands. Between April 29 and May 5 Lancasters and Mosquitoes dropped more than 6,650 tons of supplies for the Dutch.
Law was awarded the DFC in 1944 for "gallantry and devotion to duty in the execution of air operations" and the DSO in 1945, the citation praising "a fearless pilot whose courage and determination in the most hazardous circumstances have set a fine example to all who have served with him".
Robert Charles Ewan Law was born in 1917 in Burma, where his father was a barrister in the Colonial Service. His mother was Swiss. His subsequent childhood was spent in Jamaica where his father, Sir Charles Law, was Chief Justice, and then in Switzerland at his grandparents' home on Lake Geneva.
He was educated at Wrekin College and St Catharine's College, Cambridge, where he graduated in modern languages in 1939. At Cambridge he had joined the University Air Squadron and in February 1939 he joined the RAFVR as a pilot officer. He was called up at the outbreak of war that September.
After the war postings included Paris, 1951-54, where he was involved in early attempts to form a European Defence Force, and the command of RAF El Adem in Libya, 1957-59. Some 18 miles south of Tobruk on the edge of the Libyan desert, El Adem was, in those days before the overthrow of King Idris by Colonel Gaddafi, a staging post for transport aircraft, a Vulcan bomber base and was also used by the RAF Regiment to hone desert fighting skills. It was also a visible deterrent to a potentially aggressive post-Suez President Nasser of Egypt.
One of Law's first acts was to plant acacia and eucalyptus trees and within two years El Adem had been transformed from an arid desert air base into an oasis and a resting point for all manner of birds on their annual migrations between Africa and Europe. Law made the medical facilities at El Adem accessible to the few local and semi-nomadic tribesmen and their families; if during the long and hot summers their wells ran dry, a bowser would be sent to ensure they and their herds were not without water.
After leaving the RAF as a group captain, Law worked as personnel manager for Courtaulds before finally retiring in 1982 to Constantine bay, North Cornwall.
In 1945 he married Norah Parsons (née Eaden) war widow of Lieutenant John Parsons RNVR. She died in 1998 and he is survived by his two sons.
Group Captain Robert Law, DSO, DFC, wartime Pathfinder commander, was born on November 2, 1917. He died on February 11, 2008, aged 90
---
Return to Leeming...or...Return to first El Adem page...or...Return to additional pictures page




Return to Index

.