---
- A Policeman's Lot -
---
And this is the remains of the Guardroom in which George spent many a seemingly unending shift, and perhaps past which the rest of us sometimes walked (or staggered) not without a little trepidation. There is our ex Snowdrop back but not in uniform so he very easily resisted that inbuilt SP's urge to bellow the dreaded "OI! AIRMAN!".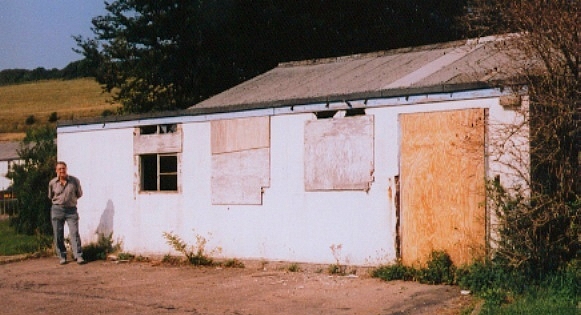 In 1957 George Sutton was called up for National Service six weeks short of his twenty second birthday, having completed an apprenticeship at the Folland Aircraft Company. He did his square bashing at Bridgenorth. Having been foiled in a schoolboy ambition to become a policeman, he very naturally volunteered to be one of the RAF variety just 'to test the water', as he puts it. His four weeks of RAFP training was accomplished at Netheravon following which he was posted as an LAC to RAF Wartling in Sussex which was one of the larger R3 radar stations. George notes that Wartling was frequently 'off the air' which was surprising as it was new and being close to London was somewhat of a showpiece station, in addition to which it was being used for controlling civilian Heathrow air traffic too. George recalls that when Wartling was thus incapacitated, it was always Ventnor that covered for them as Ventnor was never off the air.

When, after a few months at Wartling a Corporal from Ventnor made contact seeking an exchange posting, George now an SAC was very happy to co-operate, his home town being Southampton. Subsequently George found that he was able to play regularly for his old football team as the understanding management of his section, in the guise of that selfsame Sgt.Matthews maligned elsewhere by this almost repentent author, was not averse to his men shift-swapping to their own convenience and without need for his formal agreement.

George found RAF Ventnor in June 1958 to be a well established going concern of about a hundred and fifty strong as he remembers it, intent on the performance of it's duties. Probably very few there had any inkling at that time that within eighteen months the camp would cease to operate, which George found strange as it had been common knowledge at Wartling where indeed his swap to Ventnor was queried by colleagues who believed that Ventnor's demise was almost immediately in prospect. In March 1959 George received unexpected promotion to Corporal, or more correctly as he rather ruefully says, Corporal, Acting, Unpaid. This was due to a decree from on high that all RAFP must have that rank to provide them with authority, a state which had always been the case until an earlier decree allowed lower ranking police, presumably being instituted then as an economy measure. Thus authority was restored and the economy remained! However George avers that in his case the advantage of rank was not necessary as he had already experienced the management of men in his civilian occupation. The rank would also have required him to join the rosta of 'Duty NCO', thus confining him to camp when otherwise he might have been at liberty and George considered declining the 'promotion'. As a long service man, Sgt. Matthews could not conceive that possibility and strongly advised against it. In the event George did not find being 'Duty NCO' at all onerous, probably as Ventnor being such a small camp it rarely generated additional business for him when serving in that capacity.

When the sad event of Ventnor ceasing to be operational had eventually taken place in 1959 he was one of the rearguard which consisted of the CO and three RAFP. By then all four were enjoying accommodation in the same guesthouse in Wroxall as all the domestic site facilities had closed. The CO, a Flying Officer, had little to do and he happily drove the three policemen to and from their duties in their sole vehicle, a Landrover. All during that last summer of 1958 the strength had been slowly run down. Many of the surplus radar operators were sent off to Cyprus for somewhat more military duties during the troubles there. George clearly remembers the dismantlement of the Type 80 in the summer of 1959 when in weekly instalments, large sections were taken away in pairs on purpose designed Decca low loaders. One wonders how on earth they managed to negotiate the hair-pin bends in Down Lane.

George encountered but little crime during his service although two criminals do remain in his memory.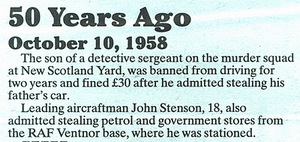 The first returned from home to the camp in a smart car which proved eventually to have been stolen by him from his father and for some weird reason he drew attention to himself by installing a flashing light in the rear window and driving around like that for several weeks. That in itself was not a crime, but siphoning petrol from a Council vehicle was, and the Civil police duly arrived to arrest the man, and then the lack of insurance and illegality of ownership were discovered. It turned out that the man's father was a policeman in The Met and he had already claimed on his insurance for his loss and obtained a replacement vehicle! The theft had been reported to police forces throughout the country including the Isle of Wight and the thief had not even taken the precaution of changing the number plates. He was fined and disqualified from driving and as an ex RAF Apprentice was most unhappy to be dismissed from the Service. George humoursly states that he considered stealing a car himself as a means of expediting the termination of his service!
The second criminal had stolen several Post Office savings books from his comrades. He drew money from these at Post Offices around the Island. He even dared to boost the balances by making false credit entries in the books too. Eventually the Civil police came for him and he was bailed to appear at a later date, the bail surety undoubtedly provided by the stolen money. The police were also searching for evidence of his alleged much earlier crimes of the same nature: the man who had since then been posted to and returned from Christmas Island claimed that all his documentation had been contaminated by radioactivity whilst there and had needed to be destroyed. During his time on bail the idiot could not be stopped from continuing to do what he had already been arrested for and consequently eventually went to prison for three years. His service in the RAF would have been over, but George is of course unable to confirm that owing to his own demob.
A noteworthy event took place at the top-site that summer. A series of heath fires occurred close to the site which the firebrigade was unable to control with the modest 800 gallons of water they were able to bring with them. All available RAF personnel ( yes, even the officers ) were required to beat out the flames when the fire threatened the compound but their combined efforts failed. The fire eventually passed into the site through the wire but happily confined itself to the gorse and grassland, only skirting the bases of the top-site equipment.
In his time at Ventnor George and his fellow Snowdrops did their best to mitigate the widely held belief that he and his colleagues were a tribe apart by engaging in a busy social life and consequently had many friends amongst the technical staff and operators. This became easier to achieve as the number of staff diminished. As did so many others at RAF Ventnor, including at least two of his police colleagues, George became attached to a local girl and a couple of years later Kate became his wife. He was demobbed on Guy Fawkes eve 1959 and returned to the Folland management where amongst a variety of other management positions he became involved with their punched card accounting department. By 1966 with the advent of large number-crunching computer mainframe installations, he became a Systems Analyst and by 1970 had progressed into the management of the computer department. With younger blood and brighter brains (George's own words!) moving into computing, he left the Aircraft Industry to take up a post with the Isle of Wight Council, as Insurance Manager, where his previously acquired experience in finance and management well qualified him to take care of the Council's manifold insurance requirements. Far from being dull as some people might believe, George found great job satisfaction for the ensuing twenty five years becoming involved in a whole range of the Council's diverse activities. He eventually hit the sixty-five button at Christmas 2000 and immediately left the Island for retirement in far off County Durham where , he tells me, he and Kate are happily settled. His only reminder of his days in the RAF is confined to the sight (and sound!) of the Tornados based at RAF Leeming when they pass low overhead.
George remembers in particular Ernie Carbury, Arthur Staines, W.O.Rowland and FSgt.Hoper, and adds a postscript regarding his good friend and fellow policeman Mike Willis who continued his service at Ventnor after George. He too married a Ventnor girl, and after demob he joined the Hampshire police force to become the village bobby at Totland. In those days the Island division had but three Wolseley cars and they were so unreliable that it was difficult to keep one going sufficiently well to allow the other two to be serviced!
George has worn quite well hasn't he?

Text & Photographs © 2006&nbspD.C.Adams
Rev120506