---
- RAF Locking -
---
Class GRFR42 - A Happy Gang of Compatible Colleagues.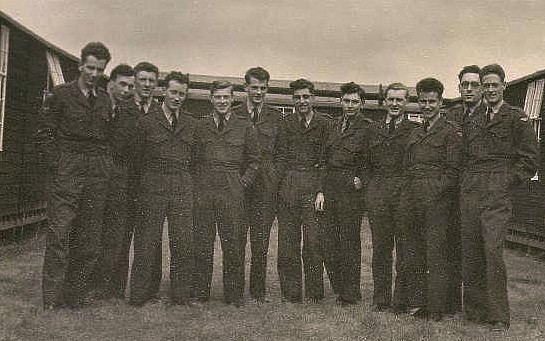 From the left: No.5 is the author. No.7 is Brian Wiltshire from Guildford I believe, No.9 is Barry Means from Bexley Heath the owner of a 250cc BSA motorbike, and far right is Dave Flux from Portsmouth. The names of the others I am unable to recall. However, No.3 who acted as our 'Senior Man' was from Glasgow and Jim at No.4 from 'London' was a keen competitive cyclist. No.10 was from Birmingham and owned a 650cc BSA Gold Flash motorcycle.

The bloke with glasses, second from right I would dearly like to contact. Unknown to me he later worked for the same company (ICL) and one day several decades after our RAF service, our paths eventually but briefly crossed. But I failed to recognise him! He may have remembered me but due to my lack of response did not mention it. Only several years later did I make the connection.

Our photographer is at No.8 and hailed from Sheffield.
Return to Index or First Locking page

Rev 111014

Text & Photo © 2005&nbspD.C.Adams